Welcome to AVI-IO


AVI-IO is a work around to the current AVI file limitation problem. Note, it doesn't INCREASE the size of the AVI file limitation BUT DOES eliminate the "problem".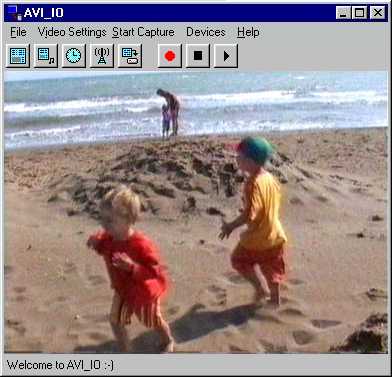 Here's what it gives you:


capture and playback up to 400GB of avi video and audio data in one step
capture and playback the video using multiple "SEAMLESS" AVI files
spread the avi files over up to 24 hard drives or partitions (Drive C - Z)
capture at full resolution and full frame rate the capture hardware allows
capture using software compression thereby saving disc space
capture a whole DV video tape in one step using one of the suported DV plattforms
capture analog video into DV format in realtime
playback at full resolution and full frame rate your hardware allows
playback at lower or bigger resolutions up to full screen
enforcement of requested/present frame rate
enforcement of audio/video synchronization
stop capture after a definable time or by command
define up to 100 timed recordings, turning avi-io into a digital VCR
define up to 100 TV stations to tune to or use with timed recordings
pause feature to "skip commercials" while capturing broadcasts and as a quick substitute for batch capturing
works together with all Video for Windows compatible capture hardware
slightly improved capture and playback performance over "standard software"
If AVI-IO runs out of disc space, all video captured up to that moment will be usable
individual avi file size configurable -> handy for CD archiving
free major upgrades for registered users
free e-mail support
no need for special "raid" system or fancy controllers
works with all known 32 bit or better Windows versions!



Last Update: Saturday September 1st 2007